Personality Evaluation and Test Assessments
Personality is your reputation and the impression that you receive from others  (how they perceive you) in predicting job performance behaviour at a certain point in time or context.
The Hogan Personality Inventory (HPI) is a measure of normal, or bright-side personality – qualities that describe how we relate to others when we are at our best.
The Hogan Development Survey (HDS) describes the dark side of personality – qualities that emerge in times of increased strain and can disrupt relationships, damage reputations, and derail peoples' chances of success.
The Motives, Values, Preferences Inventory (MVPI) describes personality from the inside – the core goals, values, drivers, and interests that determine what we desire and strive to attain.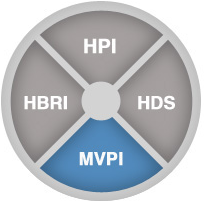 Hogan's psychometric profiling model focuses on the bright side HPI (every day strengths – external personality), the dark side (under / over used strengths / derailers when under pressure – external personality), and core motivators / drivers (internal personality).
The Matrigma assessment is a classic cognitive ability (general mental ability) test built on a modern and secure web platform. The predictive power of Matrigma makes a unique contribution to other selection criteria. Matrigma measures cognitive ability, which concerns a person's ability to solve problems, plan ahead and draw logical conclusions.
You can stop the assessment process at any time, your answers are automatically saved, and you can log back in to complete these 3 assessments. (Note: this is not possible for the Matrigma assessment).
The results can be interpreted against related industry or occupational specific norms and feedback will be provided to either the candidate and / or the employer.
This model is based on the Big Five Factor Model, with a combination of personality trait and cognitive behaviour.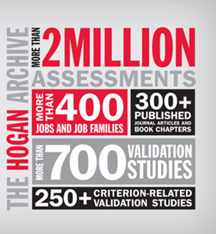 Integration with Training programs
This service is (usually) performed prior to training and can be provided with a training package to determine strengths, motivators / values and areas of weakness such as under / over-used competencies.
Once completed, depending on the report type generated, the individual / team members can also be provided with practical strategies for coaching or action plans that may be incorporated into the training program, to develop their strengths and leadership competencies or address problem issues.
Your business will be able to target and select high quality job performers from Hogan reviewed candidates, culminating in reduced insurance cover, and alignment of the business' values / culture fit (or of the individual's values / fit) in the workplace.
Candidate data can produce multiple reports to be stored and compared across time for businesses looking at tracking staff behaviours in job performance such as improvements or deficiencies in many areas including safety, leadership, interpersonal, social or self-management workforce characteristics. Profiling would also address unconscious biased tendencies and behaviours in job performance.
This service targets personality as well as interpersonal aspects of the workforce, generating action plans and goal setting for staff to work on during their training programs.