Online or Face to
Face Training
A special offer for Armed Robbery Safety Training for February
2015. We are offering up to 40% discount off the normal online
training price.
Bookings are required up to and including the 16 March 2015 to take advantage
of this offer.
For the online and face to face Armed Robbery Safety Training courses, there
are discount packages for different sizes of business.
Online Course Overview
The course is designed to address not only your compliance requirements, but
also to equip staff on pre / during and post robbery events.
The course runs for about 30 minutes and can be undertaken at any time of day
or night. Once registered, the course is available for up to 12 months.
A qualifier is included at the end of the training to ensure that the staff are conversant with the content. A certificate of
attainment is provided, if they successfully complete the examination.
Packages are available for any size business.
Face to Face Course Overview
The face to face training is localised to your business needs and those of
your employees.
The face to face training can include your specific business practices:
Standard Operating Procedures
(such as Opening and Closing requirements, Cash Handling) and
Alerts, alarms and security
procedures
Its aim is to provide the strategies to
establish a proactive secure environment.
The Armed Robbery Safety training course outline can be found at …..
https://www.alliedrisk.com.au/armed-robbery-training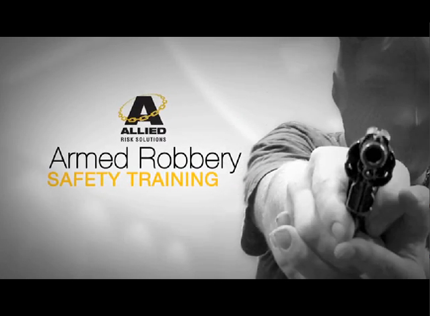 A short preview of the online course can be found at http://www.youtube.com/v/D6AImRWD2zA
For more information regarding Allied Risk's training courses, please go to
… https://www.alliedrisk.com.au/training-a-development.
To take advantage of this special offer, please contact Sam Ekinci by phone (02) 9635 0477 or email sam@alliedrisk.com.au by 16th March
2015.
Allied Risk Solutions Pty Ltd
Phone: (02) 9635 0477
Email: sam@alliedrisk.com.au
Web: www.alliedrisk.com.au